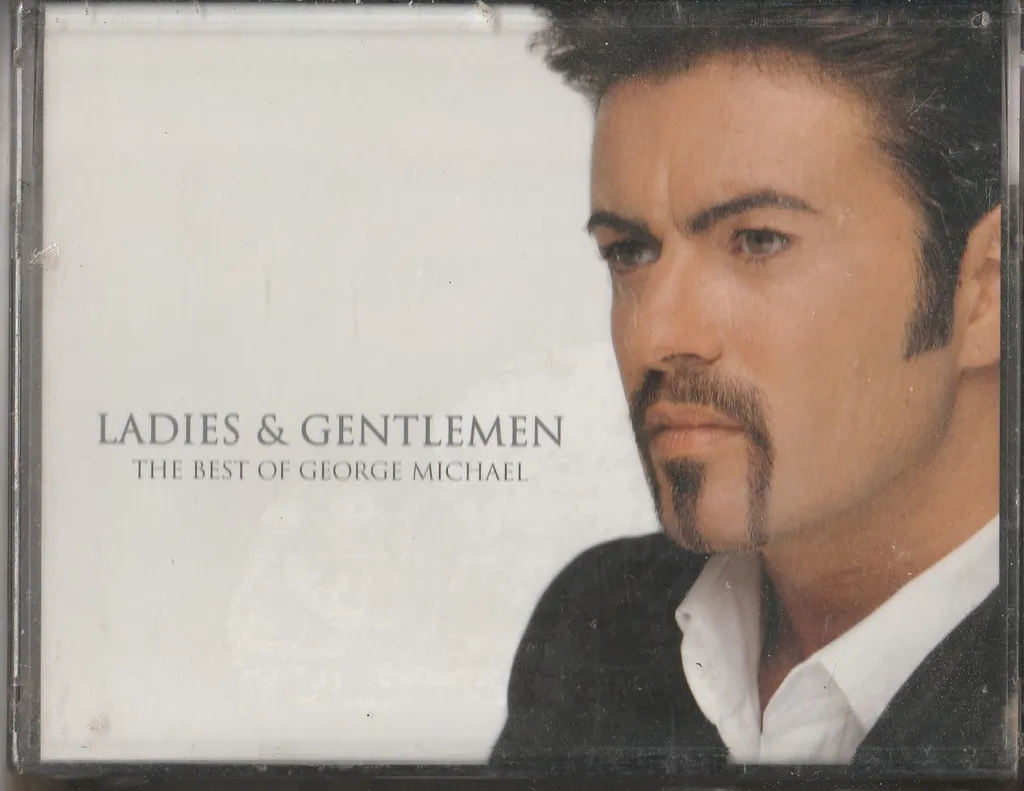 (NOS) GEORGE MICHAEL Ladies & Gentlemen (The Best Of George Michael) 2-CASSETTE
NEW OLD STOCK
Genre:
Electronic, Rock, Funk / Soul, Pop
Style:
Ballad, Pop Rock, Synth-pop
Year:
1998
Notes:
The first George Michael solo greatest hits collection released in 1998. The collection of 28 songs (29-31 songs are included on the European and Australian releases depending which version) are separated into two halves, with each containing a particular theme and mood. The first CD, titled "For the Heart", predominantly contains ballads; the second CD, "For the Feet", consists mainly of dance tunes. It was released through Sony Music Entertainment as a condition of severing contractual ties with the label.
"Ladies & Gentlemen" was a success, peaking at number one on the UK Albums Chart for 8 weeks. It has spent over 200 weeks in the UK Charts, and is the 38th best-selling album of all time in the UK. It is certified 7 times platinum in the United Kingdom and multi-platinum in the United States, and is Michael's most commercially successful album in his homeland having sold more than 2.8 million copies. To date, the album has reached worldwide sales of approximately 15 million copies. The first single of the album, "Outside" was a humorous song making a reference to his arrest for soliciting a policeman in a public toilet. "As", his duet with Mary J. Blige, was released as the second single in many territories around the world. Both singles reached the top 5 in the UK Singles Chart.

Tracklist
For The Heart
–George MichaelJesus To A Child6:51
–George MichaelFather Figure5:41
–George MichaelCareless Whisper5:00
–George Michael With Elton JohnDon't Let The Sun Go Down On Me5:48
–George MichaelYou Have Been Loved5:29
–George MichaelKissing A Fool4:35
–George MichaelI Can't Make You Love Me5:21
–George MichaelHeal The Pain4:47
–George MichaelA Moment With You5:42
–George Michael With Astrud GilbertoDesafinado3:20
–George MichaelCowboys And Angels7:14
–George MichaelPraying For Time4:44
–George MichaelOne More Try5:53
–George MichaelA Different Corner4:04
For The Feet
–George MichaelOutside4:45
–George Michael With Mary J. BligeAs4:46
–George MichaelFastlove5:30
–George MichaelToo Funky3:44
–George MichaelFreedom 906:28
–George MichaelStar People 975:38
–George MichaelKiller / Papa Was A Rollin' Stone4:16
–George MichaelI Want Your Sex (Part II)4:37
–George MichaelThe Strangest Thing 974:41
–George MichaelFantasy5:01
–George MichaelSpinning The Wheel6:09
–George MichaelWaiting For That Day4:50
–George Michael With Aretha FranklinI Knew You Were Waiting (For Me)3:58
–George MichaelFaith3:15
–George Michael With QueenSomebody To Love5:25