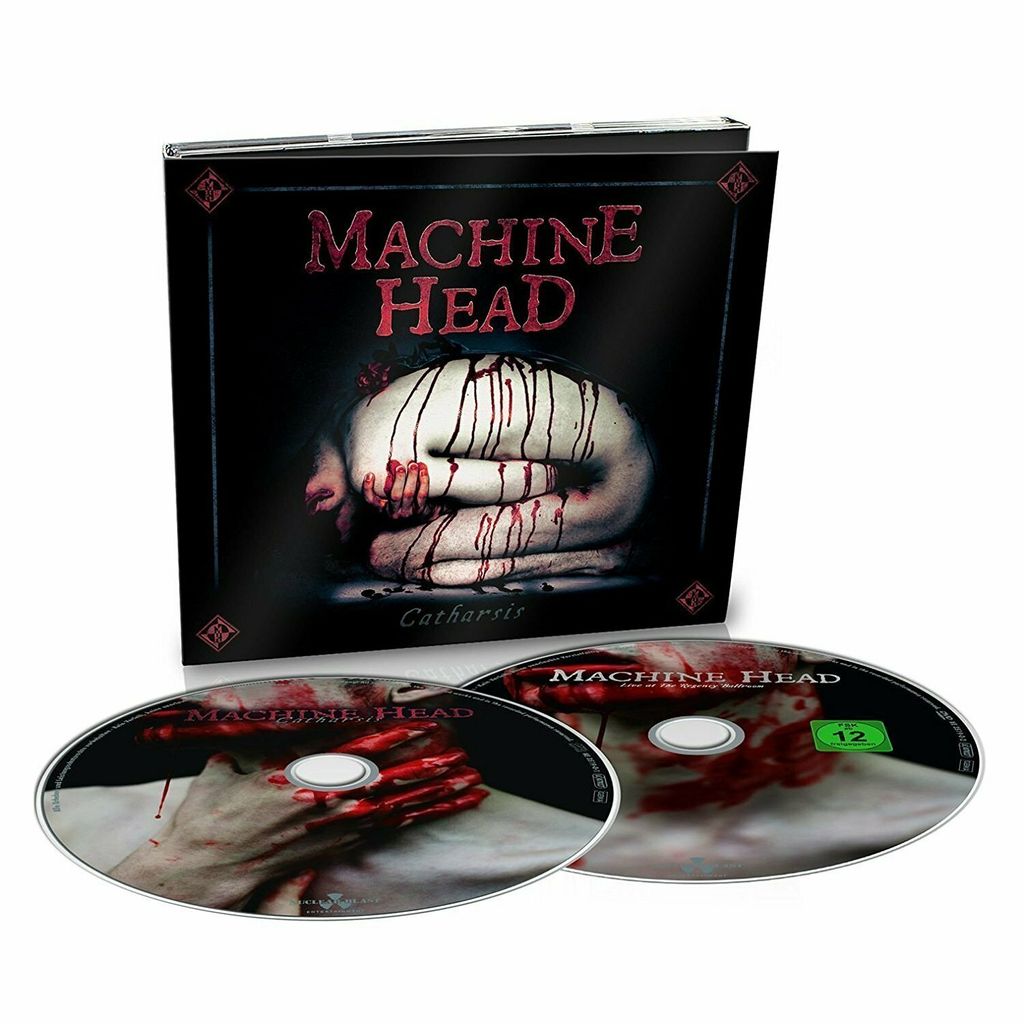 MACHINE HEAD Catharsis (limited edition digipak) CD+DVD
Notes
6-panel Digipak with 2x clear tray & 24-page lyrics booklet. Promo sticker on shrink wrap & FSK sticker on sleeve-cover.

On sticker on front:
"The ninth studio album from the Bay Area titans. 15 brand new tracks! Incl. "Catharsis", "Beyond The Pale" and "Bastards"!
Limited edition incl. bonus live DVD of a full 21-song concert!"

Bonus DVD:
Filmed live at The Regency Ballroom, San Francisco, CA, February 21, 2015.
Screen: 16:9 - Sound: Dolby Digital 5.1 - Region: All - Running time: 75 min. (CD) / 135 min. (DVD)
Sticker on back cover: Attention: DVD audio is PCM Stereo!
Label:
Nuclear Blast Entertainment ‎– NE 3519-0, Nuclear Blast Entertainment ‎– 27361 35190
Format:
CD, Album
DVD, DVD-Video, PAL
All Media, Limited Edition, Digipak
Country:
Europe
Released:
26 Jan 2018
Genre:
Rock
Style:
Thrash, Heavy Metal, Alternative Rock

Tracklist
CD-1Volatile4:39
CD-2Catharsis6:11
CD-3Beyond The Pale4:31
CD-4California Bleeding4:12
CD-5Triple Beam4:41
CD-6Kaleidoscope4:04
CD-7Bastards5:04
CD-8Hope Begets Hope4:30
CD-9Screaming At The Sun3:55
CD-10Behind A Mask4:07
CD-11Heavy Lies The Crown8:49
CD-12Psychotic5:02
CD-13Grind You Down4:07
CD-14Razorblade4:00
CD-15Eulogy6:34

Bonus DVD
DVD-1Imperium
DVD-2Beautiful Mourning
DVD-3Now We Die
DVD-4Bite The Bullet
DVD-5Locust
DVD-6From This Day
DVD-7Ten Ton Hammer
DVD-8This Is The End
DVD-9Beneath The Silt
DVD-10The Blood, The Sweat, The Tears
DVD-11Phil's Solo
DVD-12Darkness Within
DVD-13Bulldozer
DVD-14Killers & Kings
DVD-15Davidian
DVD-16Descend The Shades Of Night
DVD-17Now I Lay Thee Down
DVD-18Take My Scars
DVD-19Aesthetics Of Hate
DVD-20Game Over
DVD-21Old
DVD-22Halo