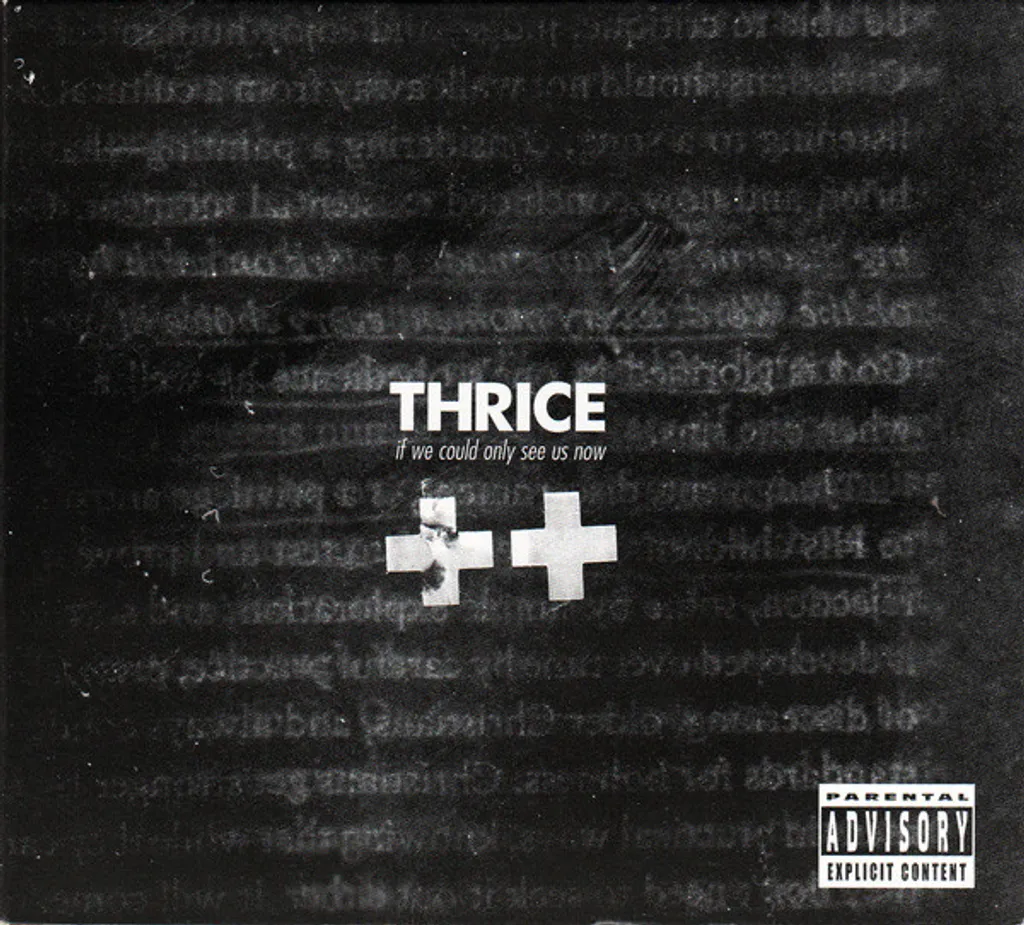 (Used) THRICE If We Could Only See Us Now CD+DVD
Notes
B-sides collection and a DVD containing a feature length documentary and various bonuses
2x slim 4-panel digipak with white tray housed in a slipcase.

"Eclipse" & "Motion Isn't Meaning"
Recorded at Bearsville Studios, Bearsville, NY and at Salad Days Studios, Beltsville, MD
Mixed at Soundtrack Studios, NYC

"Stare At The Sun (Acoustic)"
Recorded at Salad Days Studios, Beltsville, MD
Strings recorded at Phase Studios, College Park, MD

"Cold Cash, Colder Hearts" and "The Artist In The Ambulance"
Recorded live at the Apple Store, Santa Monica, CA on 10/15/2003

"Eleanor Rigby"
Originally appeared on For The Kids: A benefit for Children's Hospital of Orange County
Produced, Engineered and Mixed at For The Record

"Send Me An Angel"
Originally appeared on Punk Goes Pop
Produced, Engineered and Mixed at For The Record

"That Hideous Strength"
B-side from the Illusion of Safety
Produced, Engineered and Mixed at Salad Days

"So Strange I Remember You"
Live at PNC Arts Center - on 6/26/04
Originally appeared on the Illusion of Safety

All Thrice songs published by Scepter of Malice Music/BMG (ASCAP)

DVD Audio Engineer/Sound Design by John McClain at The Dog & Pony Show

This CD will enable you to receive a free 3 month subscription to the Thrice Alliance [NOTE: Now defunct)

Live Performances:
DVD-5 & DVD-6 filmed at The House of Blues
DVD-7 filmed at The Chain Reaction

℗© 2005 The Island Def Jam Music Group, 825 Eight Avenue, New York, New York 10019.
Distributed by Universal Music & Video Distribution Corp.
Label:
Island Records ‎– B0003917-50, Sub City Records ‎– B0003917-50
Format:
CD, Compilation, Enhanced
DVD, DVD-Video, Region Free
Country:
US
Released:
29 Mar 2005
Genre:
Rock
Style:
Post-Hardcore, Alternative Rock, Acoustic

Tracklist
CD-1Eclipse3:21
CD-2Motion Isn't Meaning1:53
CD-3Stare At The Sun (Acoustic)3:41
CD-4Cold Cash, Colder Hearts (Live At The Apple Store)3:03
CD-5The Artist In The Ambulance (Live At The Apple Store)3:47
CD-6Eleanor Rigby3:51
CD-7Send Me An Angel3:27
CD-8That Hideous Strength2:30
CD-9So Strange I Remember You (Bootleg From PNC Arts Center)4:20
If We Could Only See Us Now (Band Documentary)1:47:20
DVD-1.0Untitled (0:00)0:30
DVD-1.1The Beginning (0:30)4:00
DVD-1.2First Impressions (4:30)3:37
DVD-1.3Teppei (8:07)4:13
DVD-1.4Identity Crisis (12:20)5:34
DVD-1.5First Tours (17:54)1:06
DVD-1.6Eddie (19:00)3:36
DVD-1.7The Illusion Of Safety (22:36)9:24
DVD-1.8Take Action Tour (32:00)4:42
DVD-1.9IOS & Shark Wrangling (36:42)3:20
DVD-1.102002 Touring (40:02)3:09
DVD-1.11Decisions (43:11)1:52
DVD-1.12Deadbolt Video Shoot (45:03)0:47
DVD-1.13Warped Tour 2002 (45:50)3:13
DVD-1.14Riley (49:03)3:23
DVD-1.15Artist In The Ambulance (52:26)8:48
DVD-1.162003 Deconstruction (1:01:14)8:51
DVD-1.17TAITA Release (1:10:05)2:26
DVD-1.18Music Videos (1:12:31)2:18
DVD-1.192003 Reconstruction (1:14:49)4:22
DVD-1.20Apple Store (1:19:11)2:49
DVD-1.21Thursday/Coheed Tour (1:21:00)2:16
DVD-1.22World Tour (1:23:16)5:03
DVD-1.23Spring 2004 Tour (1:28:19)3:06
DVD-1.24Dustin (1:31:25)4:55
DVD-1.25The Family (1:36:20)4:27
DVD-1.26Summation (1:40:47)6:33
Special Features48:59
Music Videos8:54
DVD-2Stare At The Sun3:24
DVD-3All That's Left3:09
DVD-4Deadbolt2:21
Live Performances25:31
DVD-5Phoenix Ignition3:37
DVD-6T & C4:11
DVD-7Deadbolt3:05
DVD-8Under A Killing Moon2:37
DVD-9The Abolition Of Man2:51
DVD-10Cold Cash, Colder Hearts5:04
DVD-11So Strange I Remember You4:06
-
DVD-12Outtakes14:34