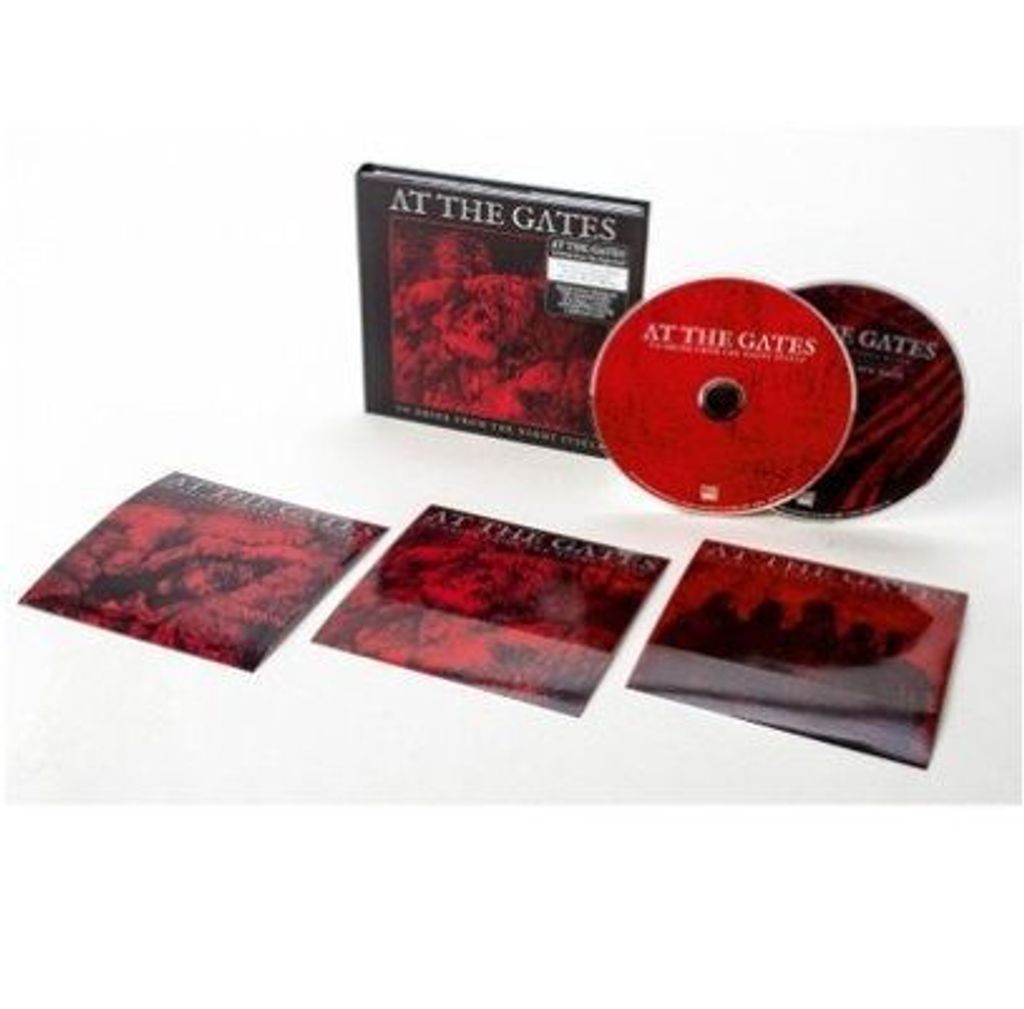 AT THE GATES Nightmare of Being (Limited Edition, Mediabook) 2CD
Issued in a limited 32-page Mediabook with clear trays and bonus disc with 9 live tracks.

On booklet:
Drums recorded Nov. 9-14 2020 in Studio Gröndahl.
Guitars and bass recorded in Sonic Train Studio, Verberg between 17-29 Nov. 2020.
Vocals & saxophone recorded at Walfare Sound, Gothenburg, between 1-6 Dec. 2020.
Classical guitar recorded in Morgantown Music Fjuesta in Dec. 2020.
Strings & brass/woodwinds recorded in Soundlab, Örebro 14 Dec. 2020.

Live in San Francisco
Live tracks recorded during the North American tour Nov. 2018.

Live in Stockholm
Live track recorded during the European tour Jan. 2019.
Label: Century Media – 19439864932
Format:
CD, Album
CD
All Media, Limited Edition, Mediabook
Country: Europe
Released: Jul 2, 2021
Genre: Rock
Style: Melodic Death Metal
1-1 Spectre Of Extinction 4:49
1-2 The Paradox 4:44
1-3 The Nightmare Of Being 3:49
1-4 Garden Of Cyrus 4:26
1-5 Touched By The White Hands Of Death 4:07
1-6 The Fall Into Time 6:45
1-7 Cult Of Salvation 4:25
1-8 The Abstract Enthroned 4:27
1-9 Cosmic Pessimism 4:32
1-10 Eternal Winter Of Reason 3:38
2-1 Red (Live At Roadburn) 3:22
2-2 The Scar (Live At Roadburn) 3:08
2-3 Koyaanisqatsi (Live At Roadburn) 3:37
2-4 The Burning Darkness (Live At Roadburn) 2:29
2-5 Daggers Of Black Haze (Live In Stockholm) 4:48
2-6 Death And The Labyrinth (Live In San Francisco) 3:37
2-7 A Stare Bound In Stone (Live In San Francisco) 4:09
2-8 Heroes And Tombs (Live In San Francisco) 4:04
2-9 The Night Eternal (Live In San Francisco) 6:21