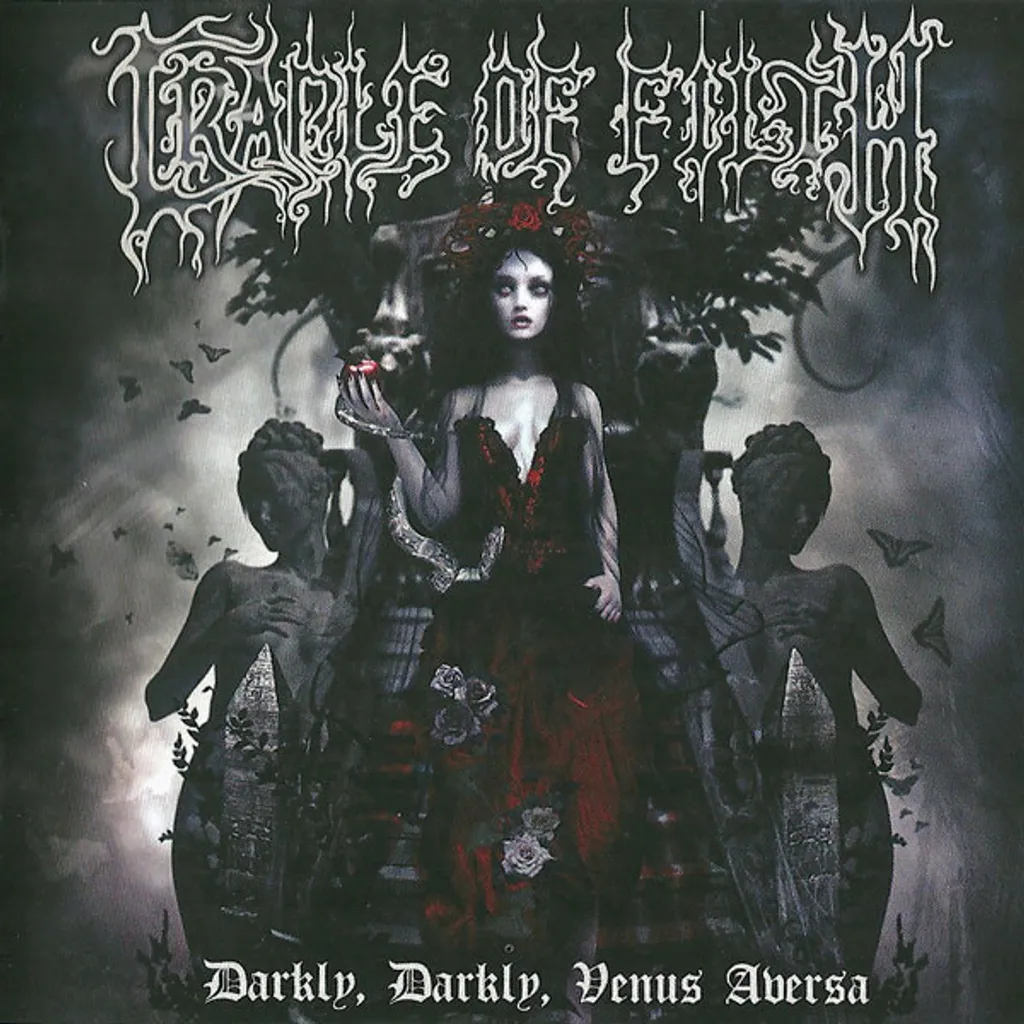 CRADLE OF FILTH Darkly, Darkly, Venus Aversa CD


Notes
On CD label:
All rights of the producer and of the owner of the work reproduced reserved . ℗ 2010 Peaceville Records © 2010 Peaceville Records . LC01702 .

On back cover:
℗ 2010 Peaceville Records © 2010 Peaceville Records . Peaceville is a Snapper Music label

Housed in a Super Jewel Box, including a 16-page booklet (Lyrics, performers with photos, credits) and an 8-page foldout inlay [Dark Classics Peaceville Catalogue]

Invoked, recorded and sexual-favoured for at - Monkey Puzzle House Studio, Woolpit, Suffolk, England, as Spring melted into Summer 2010 E.H.
Mastered at Backstage studio, Sneapy Hollow, Derbyshire, England, August 2010 E.H.

Published by Cradle Of Filth Music Ltd.
Tyrannagement - Fay Woolven at In Phase Management Ltd.

This album is dedicated to memory of our very good friend, The Green Man, Peter T. Ratajczyk Steele, 1962-2010. You will be sorely missed.

No tracks' durations mentioned on this release - data from software
Red hype sticker says :
"Cradle of Filth Darkly, Darkly, Venus Aversa
The new opus featuring 11 sonic nightmares from the UK's supreme exponents of blistering metal darkness.

Peaceville
www.peaceville.com/cradleoffilth
CDVILEF300"
Label:
Peaceville ‎– CDVILEF300, AbraCadaver ‎– CDVILEF300
Format:
CD, Album, Super Jewel Box
Country:
Europe
Released:
01 Nov 2010
Genre:
Rock
Style:
Black Metal, Goth Rock

Tracklist
1The Cult Of Venus Aversa7:07
2One Foul Step From The Abyss4:52
3The Nun With The Astral Habit4:54
4Retreat Of The Sacred Heart3:54
5The Persecution Song5:33
6Deceiving Eyes6:43
7Lilith Immaculate6:11
8The Spawn Of Love And War6:18
9Harlot On A Pedestal5:07
10Forgive Me Father (I Have Sinned)4:31
11Beyond Eleventh Hour7:16