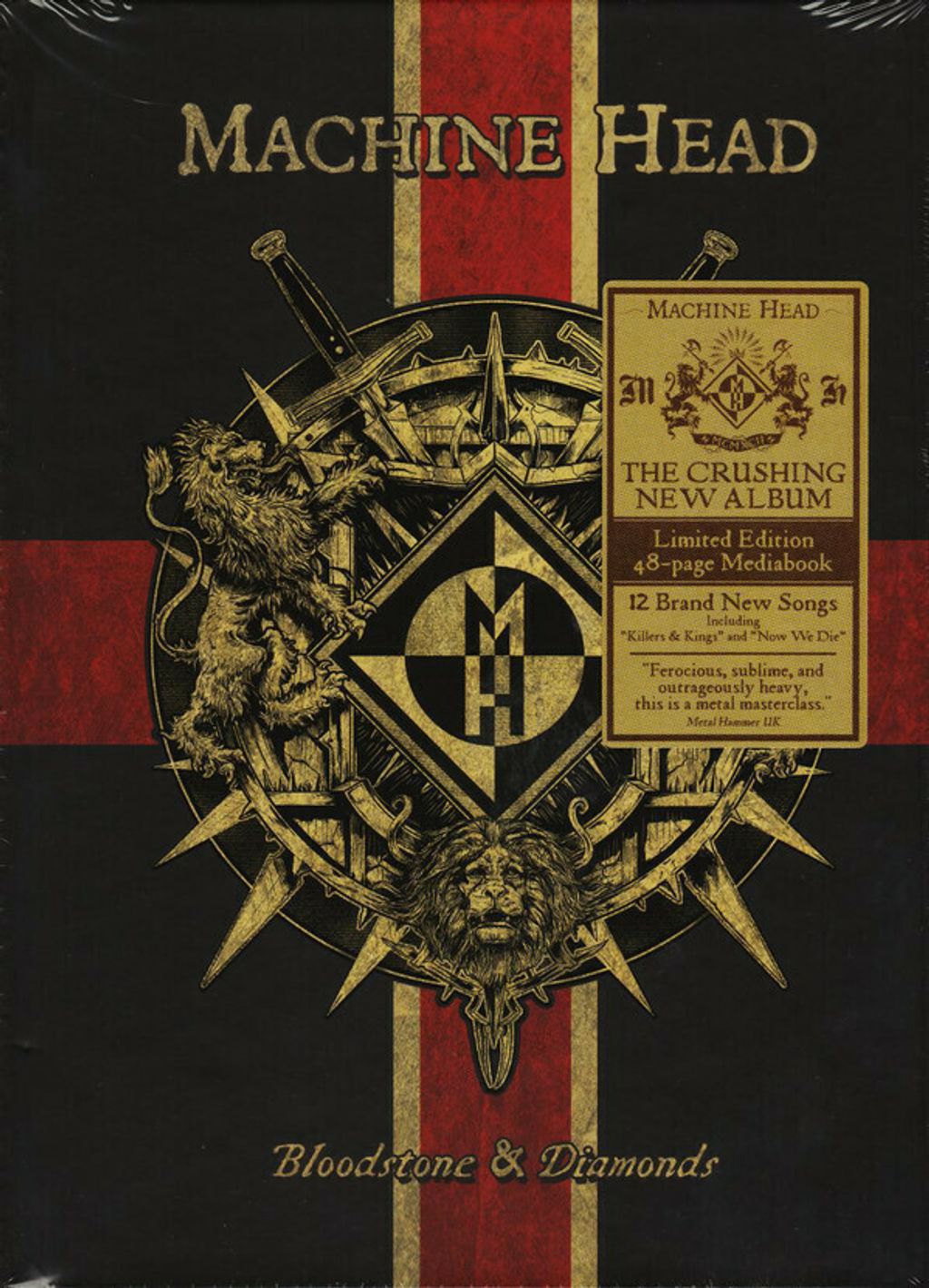 MACHINE HEAD Bloodstone & Diamonds (limited digibook) CD
Notes
First press edition.
48-page Mediabook.
Mastered at Sterling Sound NYC
Mixed at Treehouse Studio, Chesterfield, UK
Recorded at Trident Studios, Pacheco, CA, Jingle Town Studios, Oakland, CA, the back of the tour bus North Dakota, in the venue, Fargo, North Dakota, and Machine Head's Jam Room, Oakland, CA, Feb. 2014 to July 2014.
Spoken word interludes on "Imaginal Cells" by Dr. Bruce Lipton and Steve Bhaerman, courtesy of the audiobook Spontaneous Evolution.
All songs sub-published globally by Fintage Publishing B.V. on behalf of Imperium Publishing worldwide.
℗ + © 2014 · Machine Head, issued under license to Nuclear Blast Entertainment
℗ + © 2014 · Nuclear Blast Entertainment · Öschstraße 40 · 73072 Donzdorf · Germany
Nuclear Blast USA · 5741 Buckingham Parkway Unit C · Culver City · CA 90230 · USA
Label:
Nuclear Blast Entertainment ‎– NB 3322-0, Nuclear Blast Entertainment ‎– 27361 33220
Format:
CD, Album, Limited Edition, Mediabook
Country:
Europe
Released:
07 Nov 2014
Genre:
Rock
Style:
Heavy Metal, Thrash
Tracklist
1Now We Die7:11
2Killers & Kings4:32
3Ghosts Will Haunt My Bones6:06
4Night Of Long Knives6:48
5Sail Into The Black8:30
6Eyes Of The Dead6:25
7Beneath The Silt4:43
8In Comes The Flood7:23
9Damage Inside3:24
10Game Over6:37
11Imaginal Cells3:36
12Take Me Through The Fire5:49