MARTIN VENGADESAN & THE STALEMATE FACTOR The Queen's Gambit CD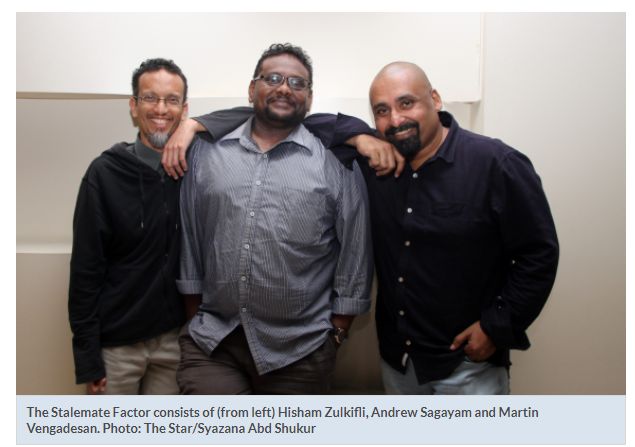 https://www.thestar.com.my/lifestyle/entertainment/2018/04/01/martin-vengadesan-stalemate-factor
If the name Martin Vengadesan sounds familiar to Star2 readers, that's because he once wrote a column called Music Myths And Legends that ran for 10 years from 2002 to 2012, in which he combined his passion for music and history.

He has now created his own music history with The Queen's Gambit, a debut recording by his band, Martin Vengadesan And The Stalemate Factor. The album is a personal project he started in 2010, but only managed to complete in 2017.

"It started out as a band eight years ago, but through the course of it, we suffered breakups and all that, so it became a recording project," he said.

He added that half the album was completed in 2013, but was then left idle. "It sat there for about four years and I kind of lost interest in it. I was busy doing other things like growing old," he said with a laugh.

"Then in 2016, my life went through a few drastic changes and I decided to get it done once and for all," he added.
The Stalemate Factor line-up consists of Vengadesan on vocals, keyboards and acoustic guitar; Hisham Zulkifli on bass; and Andrew Sagayam on drums. The three are also journalists – Vengadesan is a news editor at The Star, Hisham is a subeditor at Star2, Sagayam is an ex Star staff now with Bernama news.

Vengadesan is exposed to lots of topics and news issues as a media professional, and some of it has inspired parts of his music. Song For An Abused Child is based on a real case that he followed on the job.

"When you're with the news desk, you go through a lot of depressing stuff. When you read the details and see the photos that are not published, it can really affect you," he said.

Written In Water and Affirmative are more political in nature. "Affirmative is about being Indian in Malaysia, but it has Malaysians from different races playing on it and that for me is the real Malaysia."

The Queen's Gambit, the first of four planned recordings, features a string of various genres across the album which was Vengadesan's intention from the start.

"It starts with blues rock with Affirmative. Across The Moors, the last song, is very different. It's set about 200 years ago and has a more Victorian-era arrangement with organ, harpsichord, violin, viola and classical guitars. Things Fall Apart and Bamako are just acoustic guitar, bass and drums, whereas Petunia is piano-driven.

"I wanted to have a variety of styles and for it to be very honest. Each song is like a different story and a lot of the songs are very personal," he said. "The point of the record was not to see if it would sell, but to harness our creativity and to get all those stories out there."