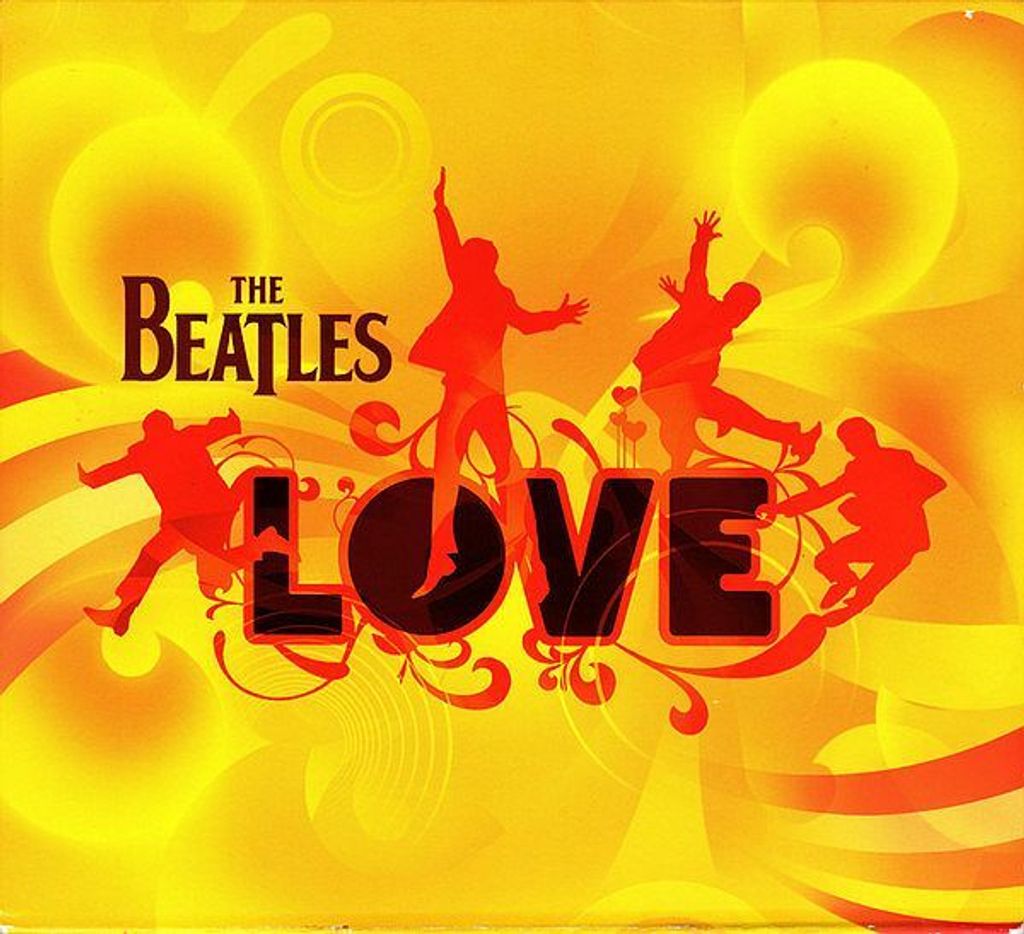 THE BEATLES Love CD + DVD-Audio
Enclosed in a slipcase.
Digipak 4 panel with 28-page booklet.

On the DVD-Audio disc of this release the tracklisting is identical but the lengths of tracks 20 and 21 differ significantly between the formats.

The DVD soundtrack is available in LPCM Stereo, Dolby Digital 5.1, and DTS 5.1.
Label:
Apple Records – 0946 3 79810 2 3, Capitol Records – 0946 3 79810 2 3, Apple Records – CDP 0946 3 79810 2 3, Capitol Records – CDP 0946 3 79810 2 3
Format:
CD, Album, Mixed
DVD, DVD-Audio, Multichannel, Album, Mixed, Stereo
Country:
USA & Canada
Released:
Nov 17, 2006
Genre:
Rock
Style:
Pop Rock, Beat, Rock & Roll
Tracklist
CD-1Because2:44
CD-2Get Back2:05
CD-3Glass Onion1:20
CD-4Eleanor Rigby / Julia (Transition)3:05
CD-5I Am The Walrus4:28
CD-6I Want To Hold Your Hand1:22
CD-7Drive My Car / The Word / What You're Doing1:54
CD-8Gnik Nus0:55
CD-9Something / Blue Jay Way (Transition)3:29
CD-10Being For The Benefit Of Mr. Kite! / I Want You (She's So Heavy) / Helter Skelter3:22
CD-11Help!2:18
CD-12Blackbird / Yesterday2:31
CD-13Strawberry Fields Forever4:31
CD-14Within You Without You / Tomorrow Never Knows3:07
CD-15Lucy In The Sky With Diamonds4:10
CD-16Octopus's Garden3:18
CD-17Lady Madonna2:56
CD-18Here Comes The Sun / The Inner Light (Transition)4:18
CD-19Come Together / Dear Prudence / Cry Baby Cry (Transition)4:45
CD-20Revolution2:14
CD-21Back In The U.S.S.R.1:53
CD-22While My Guitar Gently Weeps3:46
CD-23A Day In The Life5:08
CD-24Hey Jude3:58
CD-25Sgt. Pepper's Lonely Hearts Club Band (Reprise)1:22
CD-26All You Need Is Love3:38
DVD-1Because2:43
DVD-2Get Back2:05
DVD-3Glass Onion1:20
DVD-4Eleanor Rigby / Julia (Transition)3:05
DVD-5I Am The Walrus4:27
DVD-6I Want To Hold Your Hand1:22
DVD-7Drive My Car / The Word / What You're Doing1:54
DVD-8Gnik Nus0:54
DVD-9Something / Blue Jay Way (Transition)3:29
DVD-10Being For The Benefit Of Mr. Kite! / I Want You (She's So Heavy) / Helter Skelter3:22
DVD-11Help!2:18
DVD-12Blackbird / Yesterday2:32
DVD-13Strawberry Fields Forever4:31
DVD-14Within You Without You / Tomorrow Never Knows3:07
DVD-15Lucy In The Sky With Diamonds4:10
DVD-16Octopus's Garden3:18
DVD-17Lady Madonna2:56
DVD-18Here Comes The Sun / The Inner Light (Transition)4:17
DVD-19Come Together / Dear Prudence / Cry Baby Cry (Transition)4:45
DVD-20Revolution3:23
DVD-21Back In The U.S.S.R.2:34
DVD-22While My Guitar Gently Weeps3:46
DVD-23A Day In The Life5:07
DVD-24Hey Jude3:58
DVD-25Sgt. Pepper's Lonely Hearts Club Band (Reprise)1:22
DVD-26All You Need Is Love3:39